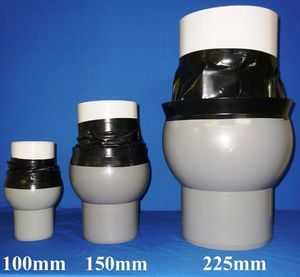 Swivel Expansion Joints PVC
The Swivel Expansion Joint is an F& M flexible sewer/PVC "knuckle" joint capable of rotating + or - 15º from its axis, including 50mm - longitudinal - telescopic expansion.
It allows stress free junction performance, while simultaneously providing a flexibility, at normally fixed branch positions, thus compensating for soil movement in reactive soils.
The Swivel movement is protected by a black plastic DUST

membrane, preventing loose or muddy soil from entering the sealing 'O' rings
for the products life.
The Swivel joint will alleviate breakage of pipe junctions at foundation, inlet and outlet level on all tank systems.
For use in above and underground Sewer and Storm water pipe systems, available in 100 mm, 150 mm and 225 mm pipe sizes.
Available from all good Plumbing Merchants Australia wide.
Swivel Expansion Joints details
| | | | | |
| --- | --- | --- | --- | --- |
| SIZE | CODE | EXPANSION | OPEN MEASUREMENT | CLOSED MEASUREMENT |
| 100 mm | SJ10015 | 50 mm | 325 mm | 275 mm |
| 150 mm | SJ15015 | 60 mm | 435 mm | 375 mm |
| 225 mm | SJ22520 | 130 mm | 650 mm | 520 mm |
Click on to ENLARGE pictures or
Click on the underlined code numbers below the pictures for product Technical Drawings