Expanda Joints
INSTRUCTIONS FOR USE OF THE EXPANDA JOINT FOR CUT-INS, REPAIR AND STACK WORK.

1)

Clean and glue required fitting to pipe end of repair joint.

2)

Before installation remove cardboard spacer from inside repair joint and push sharply downwards against a hard surface until fitting is fully closed.

3)

Measure area of broken pipe using closed repair joint and added fitting. Cut and remove that length of pipe.

4)

Remove swarf, clean and glue socket end of repair joint to pipeline.

5)

Clean and glue added fitting and expand to join onto pipeline.
To allow for future soil movement it is preferable that the EXPANDA JOINT is not fully expanded.
Previous methods of repair have been considered ?difficult?, ?inadequate?, ?inefficient? and ?risky? by some government authorities, astute plumbers, drain layers and many construction designers.
The EXPANDA JOINT removes the difficulty. It is most adequate and efficient and when installed correctly, ensures a water-tight seal with allowance for soil movement, which may have been the cause of the original break.
INSTRUCTIONS FOR USE OF THE EXPANDA JOINT AS A FLEXIBLE COUPLING WHEN SPECIFIED IN THE PLUMBING AND DRAINAGE OF A REPORT FOR FOOTINGS CONSTRUCTION.
Ref. AS 2870-1996 Section 5.5.4 (b)

1)

Before installation remove cardboard spacer from inside repair joint and push sharply downwards against a hard surface until fitting is fully closed.

2)

Open/expand until fitting is set in the middle, allowing 150mm movement (75mm expansion and 75mm contraction) (DWV application) and 90mm (45 expansion and 45mm contraction) (Stormwater application).

3)

For underground installation, it is recommend that the rubber ring joint be wrapped with Storm plastics Expanda tape i.e. Denso Tape impregnated with copper sulphate crystals to deter root intrusion into the joint.

4)

Clean and glue pipe end of expansion joint to pipeline fitting, i.e junction or bend for sewer, downpipe adaptor or socket for Stormwater.

5)

Clean and glue pipeline into socket end of expansion joint.
Current Sales of EXPANDA JOINT throughout Australia confirms the demand for Sewer and Stormwater fittings which incorporate flexibility for movement in reactive clay soils.
The EXPANDA JOINT is also being used extensively in repair because they are a quick, easy and cost-effective method of cutting in to an existing installation.
EXAMPLES OF SEWER DRAINAGE LAYOUT USING EXPANDA JOINTS
Install one fitting to the vertical or inclined riser and one horizontally after each junction unless otherwise specified. Note the horizontal fitting allows torsional (twisting) movement at the take-off joint.

Typical Installations
Breakages of drainage pipes at foundation level can be alleviated with the use of the SWIVEL JOINT.
Septic tank systems can be protected from natural soil movement by using SWIVEL JOINTS when installing the tank.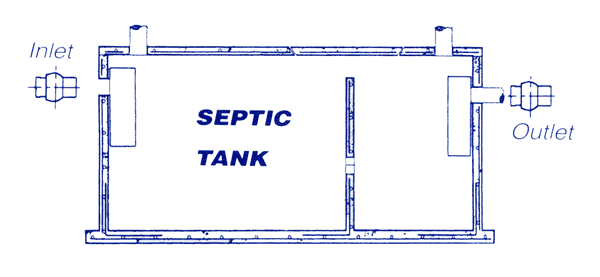 Instructions for use of the Expanda and Swivel Joints as flexible couplings when specified in plumbing and drainage systems under the Residential Slabs and Footing Code 1998.
Storm Plastics Expansion & Swivel Joint flexible plumbing systems take the pain out of drainage design. With the incorporation of swivel and expansion joints, a more simplified system has evolved for Consulting Engineers to lay out their designs, creating a more 'even playing field' with which to work. Similar in fact to the three prong flexible system used throughout the gas and oil industry, as design problems are shared in both industries.
Our system has the advantage of allowing for movement from 40mm up to 280mm.
We can design systems to suit most situations with Expansion Joint diameters of 40mm to 250mm and Swivel Joint diameters of 100mm and 150mm.