PVC Puddle Flanges
Puddle flange for suspended floors has provision for screwing to timber floor and can be fixed to concrete floor prior to connection to pipe work, as it is a socket fitting
Code PF80M for the male internal pipe Puddle Flange and
Code PF80F for the socket end Puddle Flange.
Top View

Bottom View

Flange with a PVC

and C/P PVC 80 mm Grate

 
PVC Floor Flanges
Available in all the regular DWV sizes
| | | | | |
| --- | --- | --- | --- | --- |
| FF40 | FF50 | FF65 | FF80 | FF100 |
Stormwater Reducer
ST10090
In pipe reducer to go from 100 mm DWV to 90 mm SW
allows you to go pipe to pipe with one fitting.
Fine Fit Adaptor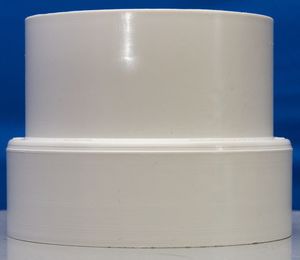 A purpose built PVC stormwater adaptor that makes the plumbers job faster, innovative, neater and efficient (FINE).
It has been manufactured to fine tolerances that cater for the variations in the outside diameter of 75mm downpipe as the size varies along the length of the galvanised downpipe.

A time saving compact PVC fitting to efficiently and neatly join 75mm round galvanised downpipe to 90mm PVC stormwater pipe.

No longer do you need to crimp the galvanised downpipe and struggle with the two ends until finally you squeeze the downpipe inside the fitting.
Downpipe Adaptors
Storm Plastics manufacture in house various PVC Downpipe Adaptors to suit 100 mm, 150 mm, 225 mm pipe
Below is a small sample of what we have available at Storm Plastics
 

DP907070

 

DP100100100

 

DP10072127

 

DP10075155

 

DP10085100
 

DP150105185

 

DP150125175

 

DP150150150

 

DP225205205

 

DP225305150
You will find the full range of Downpipe Adaptors on pages 3-4-5 of our Product Guide

Fabricated 150 mm Slab Adaptor
Fitting measures approximately 250 mm

DWSA150
PVC Saddle Junctions
PVC Saddle Junctions to attach PVC to FRC Pipework
Below are a few examples we fabricate, please see page 8 of the Product Guide for the full range
 

FRC225/300/15045

 

FRC375/450/15090

 

FRC375/450/15090

 

Page 14-15
Don't say "No it is not available". If you or your customer cannot find that one off item, email or call Storm Plastics. Our creative team can cut, bend, fold, weld up and make almost anything out of pipe or flat plastic.