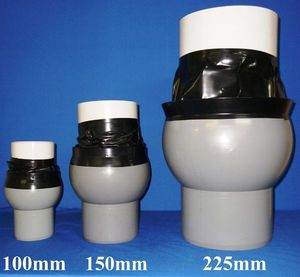 Swivel Expansion Joints PVC
The swivel expansion joint is an F&M flexible sewer/PVC "knuckle" joint capable of rotating + or - 15º from its axis, combined with the longitudinal expansion, allows stress free installation while at the same time providing flexibility at normally fixed positions to compensate for natural movement of the soil. Wrapped in a water proofing membrane with copper sulphate to deter root intrusion.
The swivel joint will alleviate breakage of pipe line at foundation level and at inlet and outlet of all tank systems.
For use in underground Sewer and Storm water drains, available in 100 mm, 150 mm and 225 mm pipe sizes.
Swivel Expansion Joints
| | | | | |
| --- | --- | --- | --- | --- |
| SIZE | CODE | EXPANSION | OPEN MEASUREMENT | CLOSED MEASUREMENT |
| 100 mm | SJ10015 | 50 mm | 325 mm | 275 mm |
| 150 mm | SJ15015 | 60 mm | 435 mm | 375 mm |
| 225 mm | SJ22520 | 130 mm | 650 mm | 520 mm |
Click on to ENLARGE pictures or
Click on the links below the pictures for product Technical Drawings